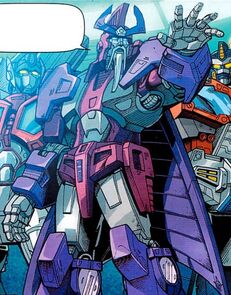 Alpha Trion (アルファ・トライオン, Arufa Toraion) was "The Archivist of Iacon", head overseer of the planet's Hall of Records, a place where all the information on the planet's history was stored, locked away...and promptly forgotten, in the last days before the war. It was a fitting position, as Alpha Trion himself had been placed there by Zeta Prime to be forgotten as a relic of history...but the elderly Autobot was more than he appeared. A truly ancient and powerful being, Alpha Trion dates from the days of Cybertron's birth. A first-generation child of Primus, he is a member of the Thirteen and the secret, forgotten guardian of two powerful artifacts: the oracular Covenant of Primus and the reality-bending Quill.
Something of a mentor to a young monitor named Optimus, Alpha Trion set him on the path to his destiny as a Prime.
Biography
Edit
Voice actor: Ron Halder (English), Kinryū Arimoto (Japanese)
His veichle mode is an Ancient Cybertronian Spacecraft, armed with gauss cannons and a "probability torpedo," a weapon that disrupts causality when it detonates, causing a target to experience the varied effects of differing realities and he has no earth-based veichle mode for some reason.
Personality
Edit
Relationships
Edit
Friends/Allies
Edit
Weapons & Abilities
Edit
A singular entity within the multiverse, Alpha Trion is one of the Original Thirteen Transformers, created by Primus, to combat the threat posed by his eternal foe, the Chaos-Bringer, Unicron. He is an old and wise Autobot.
Notes & Trivia
Edit