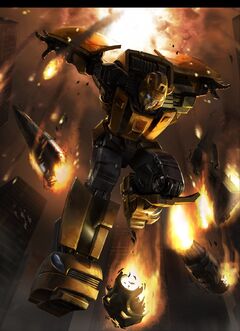 Bumblebee (バンブルビー, Banburubī) is a young and eager Autobot scout. He's full of energy and determination to do the right thing, and can always be counted on to volunteer for action. His small size matched with his impressive speed make him an excellent scout and messenger.
When arriving to Earth aboard the Ark, he's grown to like and understand humans. If you're a Decepticon and you want to threaten any humans, you better not think you can get away with it just because Bumblebee's small and he's still kept fighting, because Bumblebee will take any risk and make whatever sacrifice necessary to win the war.
Biography
Edit
Voice actor: Johnny Yong Bosch (English), Kōsuke Okano (Japanese)
Despite being one of the youngest and inexperienced Autobots serving under Optimus Prime, Bumblebee's courage makes him stand apart from others. Likes most Autobots with a spark of courage, Bumblebee presses on and has become one of Optimus Prime's closest friends.
Back on Cybertron, his veichle mode was a Cybertronian car. On Earth, his veichle mode is Volkswagen New Beetle car.
Personality
Edit
Relationships
Edit
Friends/Allies
Edit
Weapons & Abilites
Edit
Bumblebee carries an Energon Battle Pistol, has the abilities Dash and Sonic Shockwave.