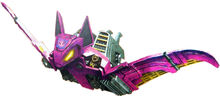 Ratbat (ラットバット, Rattobatto) was once the Mini-Con watchdog for the Council in the days before the great war, and was well known for being corrupt and in the pocket of the wealthy elite. The general opinion was that he believed only what he was paid to, and only while the payment was good. When the war began, he left that position and, along with fellow Council member Contrail, joined Megatron's Decepticons.
Nowadays, Ratbat is one of Soundwave's agents, but spends most of his time away from the others. What he does during this time is what he always does best, and that is masterminding incredibly complex financial schemes and scams to drag his targets in the red while he rakes in the credits. And they say war changes people...
Biography
Edit
Voice actor: Not Known (English), Not Known (Japanese)
His Cybertronian mode is a Cybertronian disk.
Personality
Edit
Relationships
Edit
Friends/Allies
Edit
Weapons & Abilities
Edit