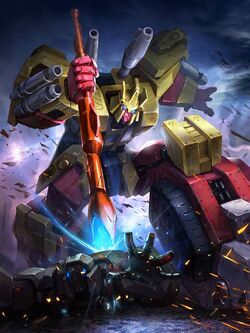 Sentinel Prime (センチネル・プライム, Senchineru Puraimu) is an imposing figure, standing head and shoulders over the average Autobot. Bristling with some of the most heavy-duty weapons and armor available to the Autobot army has instilled in Sentinel Prime a supreme confidence in his own abilities as both a leader and a fighter. Unfortunately such pride usually precedes a fall, and there will always be someone out there keen to prove a point, or who merely sees Sentinel Prime as an obstacle on the path to a bigger destiny.
Sentinel Prime was Zeta Prime's immediate predecessor as Autobot leader.
Biography
Edit
Voice actor: Jack Angel (English), Takurō Kitagawa (Japanese)
His veichle mode is an Ancient Cybertronian Fire Truck.
Personality
Edit
Relationships
Edit
Friends/Allies
Edit
Weapons & Abilities
Edit
Notes & Trivia
Edit